In today's message you will find:
DRMB

and Province Agree on Additional Supports
While work continues on negotiating our next Master Agreement, Doctors Manitoba and the provincial government have agreed on some new temporary supports, which the province hopes will help to retain doctors in Manitoba.
The announcement includes two new supports for physicians:
Reimbursement on

CPSM

licensing fees for two years, a provincial investment of $

13

million.
Providing free access to Cortext, a secure messaging platform to support physician collaboration.
Our President Dr. Candace Bradshaw explained Doctors Manitoba is encouraged to see more positive steps forward from the province, and hopes more will follow. ​"These steps act on some of our recommendations to the province to tackle Manitoba's physician shortage, including from the rural health summit we co-hosted with the Manitoba Chambers of Commerce last year. We look forward to additional resources to support and expand Manitoba's physician complement, which will result in better access to medical care for Manitobans."
Reimbursing Your CPSM Fees
The province has agreed to reimburse physicians for the full cost of their annual fee to renew their CPSM license, or certificate of practice. This is expected to provide physicians with over $4,000 each over the two-year period. Doctors Manitoba will administer the reimbursement program. Physicians can expect details in the next couple of weeks, including an application form for reimbursement on this year's fees, which most physicians paid in late 2022. Watch your email for updates.
Cortext Access
One recommendation from our Rural Health Summit was providing free access to all physicians to Cortext, a secure messaging app that supports physician collaboration. This will apply to physicians who already pay for access, as well as physicians not yet using the app. We will share details on how to apply for your free access later this month.
These announcements are part of the province's Health Human Resource Action Plan. Doctors Manitoba has advocated for resources and supports for physicians under this short-term plan while negotiations continue for our longer-term Master Agreement. Other advancements for physicians made under this plan include:
Expanded supports for primary care, including after hours work for physicians in community health clinics and the

20

% premium for extended hours in primary care clinics.
Creating a Joint Task Force to reduce administrative burdens on physicians
Funding to expand physician health supports

VECTRS

, a specialty consult and patient transport coordination service, which will launch next week (see update later in this newsletter).
Expanding virtual care to include group psychotherapy.
Major expansion to medical training.
Extending expanded physician hours in ERs.
You can see today's news release on Cortext and licensing reimbursement here.
6

:

30

PM

TONIGHT

 — Join Our

AGM

!
We invite you to join us tonight (Thu) at 6:30PM for our Annual General Meeting. This is an important meeting, and your attendance is important. You can still register anytime today and attend in-person or virtually on Zoom.
The meeting agenda includes:
Remarks from our outgoing President Dr. Candace Bradshaw.
An update from our

CEO

Theresa Oswald on important issues such as the Master Agreement negotiations.
A fireside chat with Senator Dr. Gigi Osler
Proposed amendments that would make foundational changes to our by-laws, including modernizing our governance, creating a more inclusive and representative Board, and ensuring members at the heart of every decision.
Announcement on the new President-Elect for

2023

 – 

24
> Click here to register, and to view the full agenda, proposed by-law amendments.
Surgical Diagnostic Task Force Update
We continue to hear concerns in our office, and in the media, about navigating the health system for more resources to address the surgical and diagnostic backlog. This includes concerns raised by physicians working in the Sleep Disorder Centre, Grace Hospital, neurology, ophthalmology, and other areas. We share these concerns. As we have mentioned in recent updates, we've raised these concerns with the Diagnostic and Surgical Recovery Task Force to advocate for better and more timely communication with physicians trying to improve access for patients.
Today we can offer an update based on our discussions with the Task Force, including about an upcoming new request for proposals. While the following update won't solve the complexities of navigating a complicated health care system, we hope it will offer some clarity on upcoming opportunities through the Task Force for more resources.
We understand a new Request for Supply Arrangements, or RFSA, will launch later this month. The Task Force is looking for any and all capacity to help address any and all surgical or diagnostic pandemic backlogs.
In our discussions with Task Force officials, they acknowledged that ​"doctors who care for patients every day are best positioned to suggest smart ideas for improving how that care is delivered" and want to invite physicians to share their ideas to speed up care for patients stuck on waitlists via the RFSA process.
We have raised concerns the RFSA process is complicated and unfamiliar to many physicians. However, the province is required by law to follow a strict process for competitive tenders and requests. To help, we are sharing everything we've learned to help physicians get ready. Here is what we know.
The

RFSA

will be posted on

MERX

, a tendering website. It should be accessible without a paid subscription. When it is posted, we will provide an update in our weekly newsletter.
The

RFSA

is only posted for

15

days, so it is important to get organized now to complete the fairly lengthy application form.
We understand any surgical or diagnostic procedure could be eligible for funding to expand services, as long as there is data to demonstrate there is a backlog today that accumulated during the pandemic. This could mean the wait list or the wait time is longer than it was before Mar

2020

.
Physicians in independent practice (i.e. in an independently owned clinic or facility) can apply directly. Physicians seeking to expand services in a hospital or other Shared Health/​RHA facility must bring their idea to the hospital

CMO

or

COO

for support and submission.
Funding is for temporary initiatives only, not permanent new capacity. Initiatives should be ready to start service in short order following approval, with no major capital requirements. Applicants will likely be asked to demonstrate their plan, including implementing in a way that won't impair existing service delivery in hospitals and other facilities. You must already be approved/​accredited to provide the service.
This diagram from the Task Force explains the RFSA process: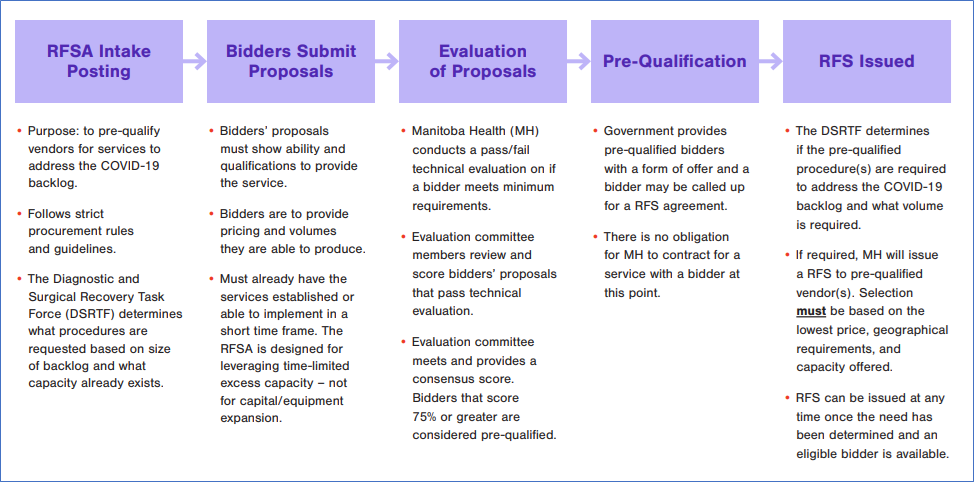 While this process is complicated, it is a route that can offer additional funding to address backlogs and long waitlists. We continue to push for an easier path for physicians' concerns and ideas. To help us with our advocacy, we ask physicians who do submit an RFSA proposal to let us know by emailing practiceadvice@​doctorsmanitoba.​ca. This will help us better monitor physician proposals so we are better positioned to advocate on behalf of the profession, including to help co-create a better health care system for physicians.
You can read more about the Diagnostic and Surgical Recovery Task Force on their website.
Physician of the Week — Dr. Zineb Laribi
Family physician, Dr. Zineb Laribi is dedicated to improving the health and well-being of her physician colleagues and has been an integral part of developing the Physician Health and Wellness Action Plan in the Northern Health Region as part of the Community of Practice (CoP). Dr. Laribi finds her greatest sense of accomplishment comes from the daily victories she achieves when she is able to help her patients lead healthier and happier lives. She says,​"seeing a patient overcome an obstacle, make progress towards their goals, or simply leave my office feeling more empowered and informed than when they arrived, is what makes every day in this profession feel like a triumph." She adds​"one of the most rewarding aspects of my work is when I see patients overcome their struggle with substance use disorder."

Read more about Dr. Laribi and other physicians who have been recognized as Physician of the Week here.
DRMB

Book Club!
The Doctors Manitoba Physician Health and Wellness committee is excited to invite you to an opportunity for building connection and community in medicine. Join us for the second virtual meeting of the Doctors Manitoba Book Club on Monday, June 12th from 7:00 – 8:30pm. We will be reading the 2023 Canada Reads Finalist​"Greenwood" by Michael Christie. We are thrilled to announce the author will be joining our virtual book club for a Q+A. There will also be a chance for the group to discuss the book and share thoughts. Register now!
Health System Updates
VECTRS

Implementation Update
The Virtual Emergency Care and Transfer Resource Service (VECTRS) is Manitoba's centralized and coordinated source for clinical guidance and patient transport support. As a single point of contact VECTRS supports continuity of care in urgent, emergent and critical situations when time is of the essence. Work is ongoing towards VECTRS' anticipated launch on May 17. As part of the phased implementation approach, the initial focus will be:

Expansion provincially of Inter-Facility Transfer (

IFT

) Triage and Coordination (T

&

C).

Development of

VECTRS

role in the Provincial Trauma System with progressive implementation of the Trauma Team Activation (

TTA

) at provincial trauma sites; as well as tracking of all cases transported to sites other than

HSC

that meet

ERS

trauma triage criteria.

Progressive transfer of existing

ERS

On-line Medical Support (

OLMS

) to

VECTRS

.
NEXT STEPS
A group of 30 physicians have committed to provide medical support at VECTRS. The process of hiring ACPs, APRTs and Inter-Facility Transport Coordinators is underway. As the phased implementation proceeds, we will continue to provide updates. If you have any immediate VECTRS-related questions, please direct them to VECTRSproject@​sharedhealthmb.​ca and we will work to respond to all queries in a timely fashion. Learn more about contacting VECTRS and patient criteria.
ICYMI
Here are some of our top recent posts, in case you missed them:
Upcoming Events
Upcoming events are always listed on our events calendar.
Featured Events
PRIDE — Join us on Sunday, June 4 as we walk in the 2023 Winnipeg Pride Parade!
Doctors Manitoba staff and members will be participating in the 2023 Pride Parade to celebrate the diverse community that supports 2SLGBTQ+ people.
Beginning at Memorial Park across from the Manitoba Legislature, Pride Winnipeg will be holding its pride rally. The parade will begin at 11am and the route will go down Portage Ave, and end at the Forks. We are inviting you, your friends and family to join us as we walk the parade route to celebrate and support the 2SLGBTQ+ community. Register here.

Leadership for Equity: Expanding Inclusive Medical Culture virtual speaker series
On May 23, we will be hosting Dr. Heidi Janz for her session on Ableism in Healthcare. This session will introduce learners to the concept of ableism, that is disability prejudice and discrimination, as endemic to society as a whole, and to healthcare in particular.
Click here for more information, and to register for the session.
Recordings are available of the first two sessions in the series:
View a recording of Intent, Harm & Action with Dr. Saroo Sharda here.
View a recording of 2SLGBTQ+ Health with Dr. Julia Chronopolous here.
Other Events
Key Topics in Gastroenterology — IBD in 2023 and Beyond — June 15 & 16
Topics include Insights into the pathobiology of inflammatory bowel disease, Nutrition, Endoscopy and Pregnancy in IBDState of the art management of IBD including biosimilars, and new advanced therapies. Registration fee $187.50 for physicians (to comply with University guidelines), but registration remains free for trainees, nurses and allied health professionals. The meeting is an accredited group learning activity (Section 1) as defined by the Maintenance of Certification program of the Royal College of Physicians and Surgeons of Canada (RCPSC) and approved by the Canadian Association of Gastroenterology (CAG). This meeting is approved for a maximum of 7 Section one credits.
This event will also be available virtual, upon registration please note how you prefer to attend. Register here.
Manitoba Psychiatric Association Annual Spring Scientific Conference — Sunday, May 28 (in-person & virtually) and Monday, May 29 (virtually). Registration for the MPA Conference includes complimentary admission to the 2023 Canadian Psychiatric Association (CPA) Virtual CPD Institute event on May 29, 2023. Get more info from their brochure. For further details and for registration contact: Ms. K. Simpson, 204.787.7098 or ksimpson@​exchange.​hsc.​mb.​ca.
Blood Disorders Day — June 2, 2023, 8am‑4:30pm
Blood Disorders Day is a one-day education symposium that is co-developed by CancerCare Manitoba and the University of Manitoba. Nationally recognized by the College of Family Physicians of Canada for outstanding CPD, Blood Disorders Day draws on local hematologists to deliver relevant and practical education for Primary Care Providers diagnosing and managing common hematology disorders. To register, click here.