In today's message you will find:
Join us at our Golf Tournament!
Join us for our Doctors Manitoba Getting Healthy Golf Tournament, presented by MD Financial and Scotiabank with support from Bokhaut CPA!
This member golf tournament is an idea that came to us from members looking for more opportunities to connect with colleagues outside of work.
Key Details:
When: Tuesday September

5

Where: Southwood Golf and Country Club in St. Norbert.
Cost: $

190

each, includes a full

18

holes, power cart, lunch and dinner, and more
Registration is now open and will be first-come first-served. There is space for up to 144 players.
Experienced golfer? You'll fit in too. Southwood is a premier championship course with challenging holes.
New to golf? You're not alone and you're welcome too! The tournament format is friendly for less experienced golf players, with a shotgun start and a best-ball scramble format.
Proceeds from the golf tournament will support the Doctors Manitoba public awareness campaigns and resources about healthy living and disease prevention, a physician-led initiative.
Negotiations Intensify
Doctors Manitoba continues to push for a new Master Agreement to offer physicians the support, resources and certainty you need. Negotiations have intensified as Doctors Manitoba and provincial government negotiators meet more frequently to review and advance a number of issues and priorities. While we are optimistic negotiations are moving in a productive way, we cannot say yet how quickly a new agreement will be ready for members' consideration.
Members are encouraged to monitor their email over the next several weeks for updates, including into the summer months.
As negotiations have intensified and continue to be the primary focus for our staff, we also ask for members' understanding as your inquiries for assistance on billing and other issues may take longer to resolve. Please continue to contact us for assistance whenever needed, and indicate the urgency of the issue to help us prioritize our responses. We thank you for your flexibility, and we appreciate your patience.
Cancer Screening Update
As of June 20, there are changes to the Implementation of Centralized Fecal Immunochemical Testing (FIT) for Colorectal Cancer Screening. The fecal immunochemical test (FIT) has replaced the guaiac fecal occult blood test (gFOBT) for colorectal cancer screening in Manitoba. Supporting resources:

Help Us With Getting Healthy Campaign!
This month, we have been running our public awareness campaign Getting Healthy, and we're looking for physicians and learners to help spread the word. Manitobans are invited to visit Get​tingHealthy​.ca, a new resource site with tips and advice from physicians on the simple steps Manitobans can take towards Getting Healthy. Plus, we've created a fun, positive contest with a chance to win fantastic prizes for any Manitoban who signs up to do one thing this month to get healthy, including physicians!
The campaign is already making an impact. So far, the campaign has been seen over 3.5 million times, leading to over 20,000 visits to our site and 5,000 contest entries. Let's keep it going together!
How can you help? Spread the word during the month of June by:
Sharing the campaign on social media
Adding the campaign to your practice or clinic website
Take a photo of yourself doing something to get healthy and share it on social media or send it to us to share on social media. Any posts should encourage Manitobans to join you in getting healthy this month and invite them to enter our free contest at GettingHealthy​.ca.
Posting signs in your clinic or practice about the campaign.
Talking about the campaign with your patients.
You can see sample posts and download images to use on this page. Posters have been sent out to dozens of clinics in the province and should arrive in the next few days. You can request posters by contacting our office at general@​doctorsmanitoba.​ca.
You can learn more about the campaign and how to spread the word here. Watch the campaign commercial here.
Physicians for the Environment
Did you know that when it comes to climate change, doctors and scientists are the most trusted voices? It could be because more and more people are making the connection between climate change and their health.
The Canadian Association of Physicians for the Environment (CAPE) is a national physician-led organization working at the intersection of health and environment. They seek to better understand how the environment affects human health, and take actions that will contribute to the protection and promotion of human health. Using an evidence-based ethics-driven approach, their intent is that the health of people and the planet are prioritized in society and policy in Canada.
CAPE has a Manitoba chapter. Dr. Tamara Miller, involved with the initiative, is inviting her colleagues to join. ​"We welcome anyone interested in joining our group. If you are interested in joining, or would like us to send you a free poster to display in your clinic outlining 100 ways of tackling the climate crisis please email us at mb@​cape.​ca."
CAPE Manitoba meets virtually monthly. They are active in several different areas, including supporting local environmental groups and letter-writing campaigns to candidates running for the 2023 Manitoba provincial election to raise awareness of environmental issues. Past work includes advocacy against the use of pesticides and herbicides on public land, supporting active transportation, and collaboration with CPAWS (Canadian Parks and Wilderness Society) and their bid to protect land and water in Manitoba.
When it comes to health care, the group is also active. Members also work on individual projects pertaining to their professional domains, such as improving nutrition in an environmentally friendly way within personal care homes, decreasing the use of metered-dose inhalers and the volatile anesthetic desflurane, and tackling waste in hospitals. Some have been trained through CAPE National to work as governmental lobbyists through its Advocacy and Mobilization Program. You can learn more about CAPE on their website.
Physician of the Week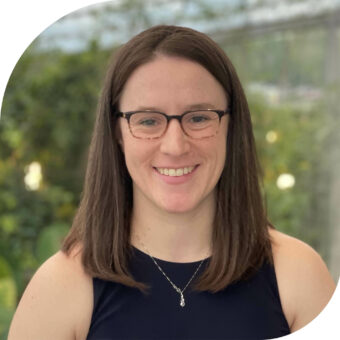 Dr. Lori Anne Archer is described as innovative, trail-blazing, inspiring and remarkable by her colleague and friend Dr. Kristjan Thompson. He adds that Dr. Archer's many impressive accomplishments make her​"one of Manitoba's brightest rising stars." Since beginning her career in 2018 she has proven to be a change-maker. In just 5 short years she created the first pediatric orthopedic fellowship program in Manitoba and established the first-ever pediatric hip surveillance program in our province, which helps children avoid major surgical reconstruction. She has also advocated for greater, structured surveillance of developmental dysplasia of the hip — a problem that disproportionately affects Indigenous children. Read more about Dr. Archer here.
Top

40

Under

40
Be sure to get your nomination for an up-and-coming student, resident, or early career physician for our Top 40 Under 40 award!This award is not just about achievements and excellence in medicine, it's also about the potential and dedication young physicians and learners demonstrate. And, it's a special award for this year only.
Check out the inclusive eligibility and simple nomination form for the Doctors Manitoba Top 40 Under 40! Nominations are due by June 30.
This fall we will host an event to celebrate the Top 40 Under 40 physicians and medical learners in our province. Do you know an incredible physician or medical learner under the age of 40 who is making waves? We want to hear about them. Nominate them today.
Up to $

35

,

000

Available for Rural Practice Training
The Society of Rural Physicians of Canada has received funding to reimburse rural physicians, including specialists, who are interested in advanced skills training, enabling them to meet specific community needs and reducing the need for patient transport out of communities to receive these services. They have received 48 trainee applications to date, and this national program will fund 166 physicians. The maximum funding available for each physician is $35,000.
What are the next steps? You will develop a training plan based on the needs of your community and find a preceptor! If you need help finding a preceptor, contact your local chief of staff or regional medical director. You can also contact SRPC to check if a preceptor is available based on your area of interest and geographic location.
The eligibility criteria and application are here.
Want to be a preceptor? Almost 80 physicians have signed up as preceptors in emergency medicine, obstetrics, and anesthesia etc. If you are interested in being a preceptor, apply here.
COVID

&

Flu Vaccine Updates
New Ordering Process for Fall
Physicians were sent a notice this week from Manitoba Public Health about ordering influenza and COVID vaccines this fall. A change this year will allow clinics to order flu, covid and pneumococcal vaccines in a single integrated process. In order to participate, all providers will need to register before August 15, 2023. Registration information will follow shortly. Late registrations will be permitted, but earlier registration is encouraged to allow for appropriate planning. Public Health has also advised that administration supplies will no longer be provided for COVID-19 vaccines, and physicians are expected to source these as they had prior to the pandemic. See the full notice from Public Health here.
Meanwhile, the U.S. FDA's scientific advisors have recommended dropping the original COVID strain from vaccines starting this fall, focusing instead on omicron variants more widely circulating. It is expected that Canada's National Advisory Committee on Immunization will also be reviewing similar advice, and provide updated guidance on fall boosters.
Bivalent Now Recommended for Primary Series
Public Health advised that the bivalent COVID-19 vaccine should now be used for the primary vaccination series as the monovalent version will no longer be available. The National Advisory Committee on Immunization (NACI) released interim guidance on June 9, 2023, recommending the off-label use of bivalent Omicron-containing vaccines in individuals six months of age and over when mRNA COVID-19 vaccines are used for the primary series. Read Public Health's update here, with links to the NACI guidance.
Janssen Vaccine Discontinued
Manitoba Public Health has advised that as of June 30, the Janssen COVID-19 vaccine will no longer be distributed or authorized for use in Canada. Work is underway to collect any unused doses. If a client requests a non-mRNA vaccine, they may be offered Novavax. Manitoba Health is aware that current inventory of Novavax vaccine is expiring on June 30, 2023 and is working closely with PHAC to explore further supply for Manitoba. See the full update from Manitoba Public Health here.
Health in the News
We've curated the top health news stories this week, with exclusive access to subscription only content.
ICYMI
Here are some recent updates, in case you missed it.
Upcoming Events
Events can always be found our on website in the events calendar. If you have an event you'd like to share with members and have included in our calendar, forward all the information to general@​doctorsmanitoba.​ca.
Events of Note
Bug Day — Mark your calendars for 2023 27th Annual Bug Day! — October 17 7:55am-4pm — Held Virtually.
Interested in the prevention and control of communicable diseases, and health issues in the community or healthcare setting? Bug Day is for you! Nationally and internationally recognized experts will present timely topics in infectious diseases and public health at Manitoba's largest healthcare education event. Held every year during National Infection Prevention & Control Week, Bug Day is streamed online – it's FREE, accredited, and you're invited!
The programme is accredited for physicians and can be used for continuing education purposes by other health care workers. There is no charge, but you must register to attend the live sessions. You can make a donation directly to the HSC Foundation Bug Day fund. Click here to visit the donation page. This donation page will automatically generate a confirmation email and a tax receipt. Register here.
Doctors Manitoba Golf Tournament — September 5, 2023
Join us and connect with colleagues at our 2023 Getting Healthy Gold tournament at one of Manitoba's premier championship courses, offering a fun non-competitive event open to all skill levels. This exciting event is an opportunity to connect with your colleagues. Facilities open at 11am | Lunch service between 11:15am – 12:45pm | Shotgun Start at 1PM | Dinner served following play Register now!

Other Events