This Thursday, September 30, will be the first National Day for Truth and Reconciliation. We strongly encourage all physicians to review the following message this week and consider how you can contribute to reconciliation, possibly by choosing one or more of the actions below. If you run a medical clinic, consider sharing this message with all staff and even encouraging team members to discuss their chosen actions with each other.

We all have a role in reconciliation.

So, what is the National Day for Truth and Reconciliation, and why is it important to the medical community and Canadians more broadly? We have consulted several Indigenous physicians and heard from many other members to help all doctors understand what the day is all about and what each of us in the medical community can and should do.

Creating a statutory holiday was one of 94 Calls to Action from the Truth and Reconciliation Commission. This year the federal government formally acted on that advice to create a new national holiday to recognize and commemorate the inter-generational harm that residential schools have caused to Indigenous families and communities, to honour those who have been affected by this injustice and to inform further action in the spirit of reconciliation. The province of Manitoba will also recognize this as a​"day of observance."

Schools will be closed on September 30 and most provincial offices and non-essential public services will be closed as well. Most health services, however, will continue to operate due to heightened patient demand for care and the backlog caused by the pandemic.

For any of you with school-age children, you may be familiar with Orange Shirt Day. For the last several years, schools across Canada have used September 30 as a day to engage students in discussion about residential schools and the lasting legacy they have on our nation.

This date has now been adopted for the new national holiday, and while it might feel like a symbolic step, many view it as an important symbol of progress.

For Dr. Catherine Cook, Vice President (Indigenous) for the University of Manitoba, this new national day is significant. ​"It is truly the first time that the federal government has actually acknowledged the genocide of Indigenous people through actions such as the Indian Residential Schools."

"For the first time," she says, ​"children are learning the true history of Indigenous Peoples in Canada and people across Canada are recognizing that they have been lied to for generations about the true history. The stereotypes that many people in Canada have about Indigenous Peoples are based on those lies or lack of truth telling and the racism that Indigenous People face every day is based on those untruths."

The last residential school in Canada closed in the late 1990s. For over 100 years before this, an estimated 150,000 Indigenous children were taken away from their parents and raised in overcrowded and underfunded residential schools. They were not allowed to speak their own language. Many suffered physical and sexual abuse and some never returned home. To date, thousands of unmarked graves have been discovered at many of these schools and many more are expected to be found.

A national day about truth and reconciliation helps to shine a spotlight on that legacy — those past mistakes — and how they continue to affect all Canadians today, explains Dr. Sara Goulet, Associate Dean of Admissions for the Max Rady College of Medicine. Dr. Goulet has dedicated her clinical work during the pandemic to Ongomiizwin Health Services, serving remote northern First Nations.

"Colonization is not in the past," she says, ​"it is alive and well today. One of the biggest barriers to reconciliation is the desire of society to see mistakes in the past, to see racism in structures we have no control over. This day will help us all to reflect on how colonization is present in our daily lives and the ways we each uphold it."

Residential schools and other forms of colonization were designed to marginalize or exclude Indigenous Peoples and their lasting impact are visible in the health care system today. Physicians see the inequities in health status between Indigenous and non-Indigenous patients on a daily basis. The COVID-19 pandemic is a stark reminder of this reality.

Dr. Cook emphasizes that these colonial systems ​"exist today despite the efforts of many to understand that we are all responsible for taking action to change those erroneous perceptions and negative behaviours resulting from that."

What actions should physicians take?

After taking the time to reflect on the truth of our colonial history, it can make reconciliation feel like an insurmountable task.

When the Truth and Reconciliation Commission released its comprehensive research and Calls to Action nearly six years ago, the Commission Chair Justice Murray Sinclair described the difficult journey that lay ahead:

"Achieving reconciliation is like climbing a mountain — we must proceed a step at a time. It will not always be easy. There will be storms, there will be obstacles, but we cannot allow ourselves to be daunted by the task because our goal is just and it is also necessary."
The Indigenous physicians we spoke to all agreed that action is needed, but even small meaningful actions in the right direction are strong next steps. Physicians are essential partners on this journey, and every physician can take concrete steps towards reconciliation.

Indeed, the journey towards reconciliation is consistent with why physicians choose medicine in the first place

"Remember that we all started this journey [into medicine] to learn how to help people to be well," Dr. Goulet says of her colleagues across Manitoba. ​"The politics and dogma of medicine and colonial structures, work to make that a challenge for us all. Despite this, we can use our greatest gifts everyday: kindness, compassion, respect and our ability to listen and treat each person with dignity."

"Creating safe spaces for care and healing is really a fundamental first step we all can work toward as physicians," she adds.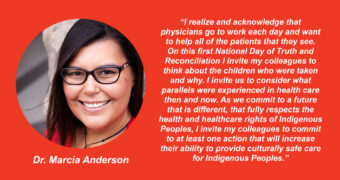 Dr. Marcia Anderson, public health lead for the First Nations pandemic response co-ordination team, has a similar perspective. ​"I realize and acknowledge that physicians go to work each day and want to help all of the patients that they see," says Dr. Anderson. ​"On this first National Day of Truth and Reconciliation I invite my colleagues to think about the children who were taken and why."

"I invite us to consider what parallels were experienced in health care then and now."

"As we commit to a future that is different, that fully respects the health and healthcare rights of Indigenous Peoples, I invite my colleagues to commit to at least one action that will increase their ability to provide culturally safe care for Indigenous Peoples."

Actions can take many forms, and could include:
Learning more about the truth of our colonial history and the inter-generational impact that persists today.
Considering how that history continues to affect patients in your practice today and how small changes can make a difference.
Displaying your support for Indigenous Peoples and your commitment to reconciliation.
Supporting Indigenous organizations.
It will take time for us all to climb the mountain Justice Sinclair described. Dr. Kristjan Thompson, President of Doctors Manitoba and a settler in Canada, agrees.

"There are no short cuts to reconciliation. Part of the journey is listening and learning. That may cause discomfort for many of us, but remember two things: ​"Our discomfort is nothing compared to the pain felt by Indigenous Peoples, and that confronting that discomfort is a necessary step towards reconciliation and improvement."
Below you will find resources and suggestions aligned with the actions above.

Learn More
Taking the time to learn more is a concrete action. Reconciliation can't happen without learning the truth. There are many online resources, books, exhibits and TV coverage from which we can all improve our understanding of our history:
The Royal College of Physicians and Surgeons of Canada has made Indigenous Health a mandatory component of postgraduate medical education. The comprehensive education guide is available here.

Consider the Impact in Your Practice
As a physician, a professional action could include reflecting on how you interact with Indigenous patients, or it could be a broader reflection on your practice. When it comes to individual patients, ​"don't make assumptions," explained one doctor. Many Indigenous patients have inter-generational trauma or may continue to be marginalized by colonial systems, but they are not all the same. ​"Listen. Build trust. Be patient." Other actions to consider in your practice include:
Display Your Support and Commitment
"I think that a great first step is to acknowledge and publicly support reconciliation," advised one physician. There are many ways to display your support:
Wear orange this week, especially on Thursday.
Hang an orange shirt in your window.
Consider adding Indigenous art and health materials in your office.
You can also attend a Truth and Reconciliation or Every Child Matters event this week, such as:
Support Indigenous Organizations
There are a growing number of Indigenous organizations. Supporting non-profit organizations with a donation, or local businesses with a purchase, is another form of action.