How Far We've Come…But Further to Go
Dr. Joel Nkosi was born to Swati parents and raised in one of the townships (reservations) near the city of Mbombela (also known as Nelspruit), South Africa. Growing up, Dr. Nkosi had role models like his physician aunt, who practiced medicine until her 70s, paving the way for a Black African man to pursue medicine. When he was 12, he and an uncle discussed a possible career in medicine. From that day on Dr. Nkosi planned on becoming a physician, except perhaps for that brief moment after high school when he considered a career in drama.
Dr. Nkosi began medical school at the age of 16 in the early 1990s, at the end of Apartheid. At that time, academic institutions were still segregated and he attended a medical school with Black, Indian and bi-racial Africans. Even in a setting without white learners, there were instances where Black students were made to feel ​'less than' by their peers, who grew up in a system that made them overtly superior.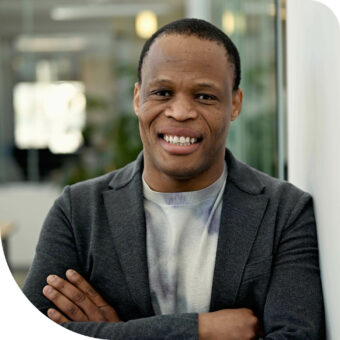 Drawn to solving mysteries, Internal Medicine was a natural fit when it came to choosing a specialty to study years after he arrived in Manitoba. After two decades of practice, he says he is still ​"fascinated by the jigsaw puzzle nature of the diagnostic process and how unique it can be from one patient to the next with a similar diagnosis." In addition to bedside teaching, he enjoys his close interaction with patients and their families, and values collaborating with other specialists and experts to find solutions to patient problems.
One of Dr. Nkosi's mentors in med school, who was also Swati, had studied medicine in Toronto in the 1960s and encouraged Dr. Nkosi to consider practicing in Canada. In 2002 he was recruited to work in Erickson, Manitoba, a small town with a population of under 500 at the time. He was the only Black person in town and spent five years working between Erickson and Brandon. He has since seen the diversity of Manitobans steadily increase.
He has experienced discrimination from patients and occasionally from colleagues. A colleague once suggested Dr. Nkosi ​"must be the most educated person from [his] township (reservation)." He finds it challenging when someone says something that is racially insensitive. In those moments, what seems most helpful to expedite care is to ​"pretend as if it didn't happen for the sake of the therapeutic or professional relationship."
There was a time when Dr. Nkosi would have a patient ask for a ​"Canadian doctor", but now, he says, the average Canadian has no issues with being treated by a doctor who is ​"not from here." Unless he is experiencing overt racism, his default is always to give the patient the benefit of the doubt. He believes that a patient's lack of exposure, education, or lived experience can foster intolerance, which he says, ​"comes more naturally than acceptance. The opposite is a much more active process." He maintains that he will not let the handful of negative experiences he has had colour his whole experience as a physician in Canada.
Physicians should reflect the diversity of the communities they care for and more diversity in the medical education programs will only improve patient care and health outcomes. To Black youth considering a career in medicine, Dr. Nkosi offers one of Nelson Mandela's quotes: ​"It always seems impossible until it's done". He hopes Black learners will not let ​"society decide what [their] ceiling should be."
He once subscribed to the thought that so long as he didn't rock the boat, he could be ​"one of them". This past winter Dr. Nkosi joined the Internal Medicine Equity, Diversity and Inclusion Working Group. He would have avoided such involvement in the past, as initiatives like this seemed to simply pay lip service to the task of increasing and celebrating diversity but he has seen a shift in efforts to provide deliverables that will affect positive change in the profession. The work he does with the International Medical Graduate (IMG) program, doing field assessments, is encouraging. It has allowed him to see the increasingly diverse doctors coming to us from across the globe.
Dr. Nkosi's plan was to spend 2 – 3 years practicing in Canada. He never imagined he would be collecting his 20 year retention benefit from Doctors Manitoba this year. He is proud of being recognized for his teaching skills, having won several education awards in his career. In the coming years he hopes to shift his work to focus more on educational, mentorship and administrative responsibilities and plans to take a more active role in ensuring diversity in medical education.
Dr. Nkosi credits his work ethic and commitment to excellence to his parents, especially his father. His hard working parents continue to work more than full-time past retirement age, in a small business breeding cattle. A proud uncle, Dr. Nkosi and enjoys competing with his cardiologist brother for being the warmer and well-loved uncle to their nieces. He contends they are both winning ​'differently'. He loves traveling the globe, returning home to visit once or twice a year where he visits his siblings and their families and enjoys listening to his mother ​"share gossip while trying to make it sound otherwise". He misses eating South African Potjiekos, a meal consisting of meat and vegetables, prepared in a cast iron pot called a potjie. It must not be stirred and should be cooked slowly, over the hot coals of an open fire, outdoors.